CREA AMSTERDAM
#1.EENNIEUWEMUSICAL
#1.EENNIEUWEMUSICAL was a theatrical seminar focused on artistic innovation in musical theatre. On August 30, 2019, a new generation of musical performers and makers presented itself in Amsterdam, with teasers of new Dutch musicals in development and performances of innovative repertoire. Fifteen performers and makers are on the stage, including Musical Award winners Jochem Smit, Terence van der Loo, Jeannine La Rose and Erik Brey.
Artistic innovation is welcome
The evening is an initiative of Niels van Doormalen, an advocate of innovation in the musical. From September, Van Doormalen will be the first Dutch citizen ever to follow the master 'Producing for Musical Theater' at the University of London, with the support of the VSB Fund and the Van den Ende Foundation. The musical Valhalla in the United Kingdom is an important school for Niels, but he sees his future here in the Netherlands: "I see it as a mission to draw the attention of makers, funds, politicians and producers to things that can be done here. Entertainment and social commitment go hand in hand. "
MAKERS AND / OR PERFORMERS:
Kelly van den Boogaard
Victor Marinus
Merlijne van Noppen
Sake Wijers
Jimi Hendrikse
Guus Boswinkel
Jeannine La Rose
Charlotte van der Plas
Job Greuter
Jochem Smit
Terence van der Loo
Joris van Veldhoven
Erik Brey
Thanks to:
Tobias Stolk, Chris Hutton, Shaina Taub, Bart Dieho, Jerre Maas, Tom Castricum, CREA Amsterdam, DeLaMar Theater, VoordeKunst, Van den Ende Foundation and VSB-Fonds, Pieter Smit Show Service.
With special thanks to the following sponsors:
Marise Voskens, Bas Zegers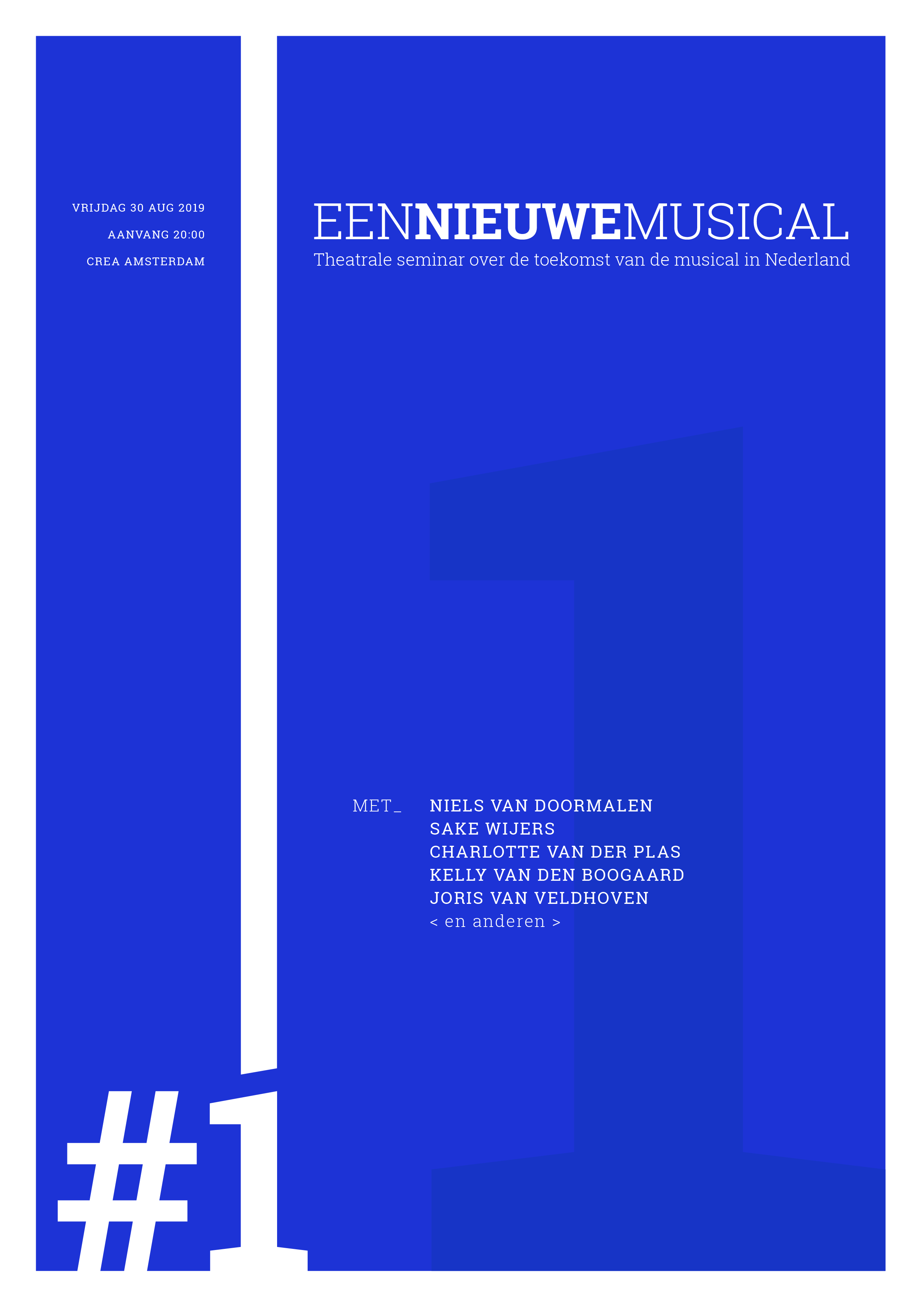 CREATIVES
Concept and talks: Niels van Doormalen
Director talks: Benno Hoogveld
Direction teasers: Daniel Cohen, Mark van Haasteren
Musical Director: Neil Foreman
Translation teaser: Jan Vos
Production assistant Marijke Castelijns (De Cactus & De Ballon)
Lightning design: Jasper Nijholt
Stage design: Joris van Veldhoven
Sound: Jannes Oosterwijk
Make-up/hair: Marissa Coster
Artwork: Marksson Media (Nik van Rozendaal)
Photography: Isabeau Bosscher
Videoregistration: Rob de Haan
Live-stream paneldiscussion: VanCas Films i.s.m. MusicalWorld
Constitution panel: Sandra Verstappen, Gable Roelofsen, Bas Verberk, Lieke van Hoogenhuyze, Job Greuter
Fotografie: Isabeau Bosscher